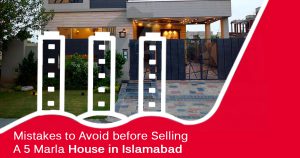 When a variety of houses are being put on sale and they are unable to get sold out then it may be the fault of the owner of the house because he neglected some things which should have been taken into account.
In order to sell a 5 marla house in Islamabad an owner needs to take care of some things which he should avoid
No Decluttering:
When an interested buyer looks at a house for sale he wants to see his own personal items and furniture in that specific house. They might not be interested in seeing the pictures of the home owner, cluttered rooms, closets, etc. It may be embarrassing for the one who is buying a house that he opens a cupboard and things start falling out of it. A specific house can look even smaller when there is too much clutter. What one should do is that they should pack up all the things and store them in a storage unit before they show a specific house to anyone. The extra things where ever they are should be packed away. In this way there are greater chances of a 5 marla house in Islamabad to get sold away quickly.
Fixing Broken Things
This doesn't necessarily means that an individual has to spend a lot of time fixing broken things. An individual can repair the broken handles of the doors, cupboard, etc. If the handles are loose one should tighten them even. If a specific home is carpeted and they need to be replaced then one should replace them even. One even needs to paint his house if the walls are not in a good condition. A house which is on sale should look presentable because if it's not presentable then a specific buyer would avoid buying it. A home should look fresh and a sort of appealing to the one who is buying it. If one is able to fix all the broken things then the value of one's house will definitely increase.
Location
Another thing that matters a lot before one is selling out his house is that where the specific house is located. If the house is located in which all the facilities are available for the resident who is going to reside in then that house has a chance that it gets sold out quickly. As compared to that house which is located in such a location where an individual doesn't has an access to any such facilities.
Individuals prefer buying houses in such locations which are near to their work place. These houses are being preferred because an individual doesn't has to cover a long distance in order to reach home. Like this one's fuel consumption is less and a person can spend his money somewhere else too.
This can prove to be beneficial for the one selling his house too because if it is located in a well-developed society then the house will be sold out quickly as compared to that house which isn't located in a well-developed society.