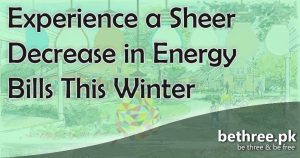 Winter is approaching! While we all are eagerly waiting for winter's wonders and chilly nights, now it is more important than ever to take measures for lowering down your energy bills: electricity and gas.  Amenities and facilities that are run on gas and electricity make our lives easier our and wallets lighter. This does not imply that we should miss out the ease part; instead, we should take care of all the energy bills intelligently. Having the needed appliances and confirming its functionality (As malfunctioning of appliances is considered to be the chief cause high bills) are the keys to staying in your budget in winters. Following are some of the most cost-effective measures that can cut down your gas and electricity bills:
Warmer wearables and covers:
Keeping thermostat down is not only good for your wallet but is for your health too. Doctors suggest making your bed cozier by adding an extra blanket, selecting warmer pajamas and wearables and opting for some warmer fabric for your duvet instead of cotton. All such practices will enable you to turn down the thermostat down at night.
Programmable thermostat:
Are you seeking a good investment opportunity that will facilitate your winter arrangements? The most optimum and state-of-the-art measure will be a programmable thermostat. Installation of this automatic thermostat regulates the temperature of your edifice for you.
Weather-stripping windows:
Keeping the interior of your home warm is the most effective way of lowering electricity and gas bills. Doors and windows tend to keep the air in circulation and lead to leakage of warmer air. So, firstly you need to investigate your exterior storm windows to see if these are in its place and are closed. Secondly, for the sake of packing the warm air inside you can get weather-stripping windows. These old-fashioned windows have proven to be inefficient windows that decrease air leakage in a pledge manner.
Mini-split air-conditioning systems:
Removing your air-conditioning unit in winters and replacing it with high-efficacy windows unit known as mini-split systems is a brilliant endeavor. The functionality of these systems is that instead of cooling it does heating.
Improved appliances' Performance:
Appliances, both gas and electricity are of vital importance throughout the year and especially in winter. For the sake of staying warm, relaxed and in good health make sure that all your appliances are working fine and offering promising performance for the winter season. Following are some of the measures that you should consider now when the winter season is around the corner:
Functionality of furnace:
A furnace is must equipment in the winter season. If you have one installed, consider having it cleaned before the chilly days. After cleaning it replace its filters for improved functionality and performance of your furnace. Also, make sure that the area around the furnace is clear for the sake of ensuring safety and avoiding any unfortunate happenings.
Upgrading the furnace:
Instead of doing all the arrangements by yourself it is advisable to get the help of a professional service provider to perform your system's checkup before the arrival of windy days. This expert investigation will be intended to check on your ducts, ensure that your furnace is running smoothly and is in good shape. If the professional analysis is otherwise, then you should upgrade your furnace and purchase the latest and more efficient model for keeping your home warm in winter in a lucrative.
III.    Insulation jacket for electric water heater:
Electric water heater has made showering a less dreadful cost-efficient and activity. Now water gets warm instantly, and you can take a shower as per your mood and need without having to wait as you have had to do with gas heaters. In order to make this facilitating amenity secure in winter and for enhancing your existing water heaters' functionality wrap it with an insulation jacket that is manufacturer-approved.
Heat pump water heater:
It is highly essential to get your existing water heater checked at the hands of professionals for assessing its functionality and safety before the arrival of cold days. In case the expert advice suggests switching to another water heater model then replace it with a heat pump water heater for experiencing the best showers and dishwashing experiences.
It is October already and the signs of the arrival of the winter season are the reminders telling us to get ready for long windy nights and days without the warmth of the sun. Elaborate electricity and gas bills are awaiting you unless you have done your homework. So, what are you waiting for? Get up and perform all the tasks mentioned above for experiencing a surprising decrease in your energy bills while enjoying the luxuries of modern life. Happy winters!