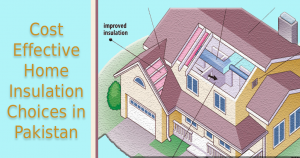 Global warming has changed the weather of Pakistan drastically. Now, the weather is mostly extreme whether it's hot or cold. The effect of this extremism of weathers can be seen on the exterior of your house and on the electricity and gas bills. In order to cut down the cost that is spent on the heating and cooling measures that become indispensable and inevitable in all such scenarios, you can opt for home insulation as a cost-effective and permanent temperature controlling measure. Following are the types of insulation that you can choose from as per your budget and weather condition of your area:
Spray foam insulation:
This method of home insulation is sprayed on the top layer of the areas of roof and walls that you want to insulate. Although it is most effective on the roofs because it provides temperature regulation in a brilliant manner.
Key features of Spray foam insulation:
Comparatively cost-effective
Short-term usage
Hassle-free installation
The aesthetic appeal will be compromised
No need for construction changes
Less effective
Foam board insulation:
This effective mode of home insulation involves installation of a hard foam layer between the walls during the construction. The thickness of the foam can be customized as per your need. This effective mode of home insulation is a money-spinning deal.
Key features of Foam board insulation:
Highly operational
Long lasting
Far-reaching construction modifications are required
No need for maintenance
Skilled installers are required
Expensive
Waterproof sealer:
Unlike insulators, sealers tend to provide resistance for your home exteriors by inculcating certain elements in it. These elements save your home exterior from sunlight and water damage. Although due to low R-value it is not effective as a primary home insulation measure.
Key features of Waterproof sealer:
Waterproofs the roof and walls
Need maintenance
Prevent weather damage and cracking
Saves the exteriors from fading
Not an effective primary insulation method
Roll insulation:
This form of insulation has many sub-categories. As some are made of fiberglass, some are from foam and others are from a wide range of composite materials. These home insulators cut down your air-conditioning cost with its rolled up sheets that are installed between the walls.
Key features of Roll insulation:
Transportable
Effortlessly available
Demands construction alterations
Can be installed in gaps between false ceilings (narrow spaces)
The desired level of insulation will need more material comparatively
Less effective due to Lesser R-value
All the aforementioned options are effective in their own way for insulating and protecting your home exterior from adverse and extreme weather conditions. Choose the one which is the best suit for your areas' weather and your financial conditions.